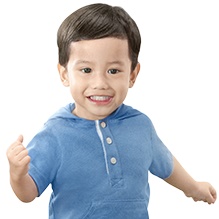 Mother, at the age of 5-12 years, your child is excited to try new things such as learn how to walk, start talking, and start exploring the surrounding environment. Give your child nutrition according to his growth.
SGM The PHPro exploration is a formula that uses Partial Hydrolysis Protein, so it can be given to:
Children who are at risk for allergies to cow's milk
Nutrition
SGM Exploration of PHPro with Presinutri + for children aged 1-3 contains:
Protein (5g)
Protein is an essential component in the growth and development of children.
Calcium (30%)
Vitamin D helps absorb calcium. Calcium plays a role in the formation and maintenance of bone and tooth density.
Zinc (25%)
Vitamin A helps maintain the integrity of the surface layer (eyes, digestive tract, respiratory tract and skin).
Iron (30%)
Iron is a component of hemoglobin in red blood cells that carries oxygen to all parts of the body.
Credibility
Armed with over 50 years of experience in providing nutritional products for mothers and children in Indonesia - in collaboration with Indonesian, Singaporean, and Dutch child nutrition experts - Sarihusada Generasi Mahardhika presents SGM Eksplor PHPro for children's growth.
Service
Contact Careline SGM & Bunda SGM to obtain product information or to consult with our team of experts from the field of obstetrics and gynecology, nutrition, child growth and development, Healthy Lifestyle, pediatricians and family psychologists through:
Phone:
(Free Toll) 0800-1-360-360
Email:
carelineSGM@sarihusada.co.id
Facebook:
Aku Anak SGM
www.facebook.com/AkuAnakSGM
Website:
www.generasimaju.co.id
Takaran saji x g
JUMLAH PER SAJIAN
Energi total : x kkal
Energi dari Lemak : x kkal
% AKG
Lemak Total
Lemak jenuh
Kolesterol
Asam Linoleat (Omega 6)
Protein
Karbohidrat Total
Serat pangan
Frukto Oligo Sakarida (FOS)
Gula Total
Gula (Sukrosa)
Natrium
Kalium
Vitamin A
Vitamin C
Vitamin D3
Vitamin E
Vitamin B1
Vitamin B2
Vitamin B3 (Niasin)
Vitamin B5 (Asam Pantotenat)
Vitamin B6 (Piridoksin)
Vitamin B9 (Asam Folat)
Vitamin B12 (Kobalamin)
Kalsium
Fosfor
Magnesium
Zat Besi
Seng
Yodium
Selenium
Persajian mengandung :
DHA
Biotin (Vit H)
Kholin
Klorida
Rules granting



In order to supply the required nutrients, it is advised that 3 glasses be drank a day.
Storage guidelines
After using, store unopened in a cool, dry area. Discard after 1 month of flavor, and color.