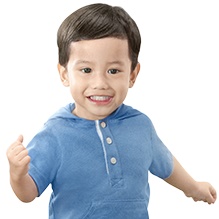 Mothers, in addition to nutrition given at home, small nutritional needs can also be used when your child is active outside the home through SGM Active UHT milk.
SGM Aktif adapts the goodness of SGM Eksplor powder milk to complement the nutritional needs of your children outside the home.
Available in flavors:
- Chocolate (110 ml)
- Strawberries (110 ml)
Nutrition
SGM Aktif is a UHT milk drink with a complinutri formula contains:
Omega 3 & 6 to support creativity and thought power
Zinc & Vitamin C to help maintain endurance
Calcium & Vitamin D to help increase the strength of bones and teeth
Vitamins B1, B2, B5, B6 and B9 to help form energy
Credibility
Armed with over 60 years of experience in providing nutritional products for mothers and children in Indonesia - in collaboration with Indonesian, Singapore, and Dutch child nutrition experts - Sarihusada Generasi Mahardhika presents SGM Aktif for children growth.
Service
Contact Careline SGM & Bunda SGM to obtain product information or to consult with our team of experts from the field of obstetrics and gynecology, nutrition, child growth and development, Healthy Lifestyle, pediatricians and family psychologists through:
Phone:
(Free Toll) 0800-1-360-360
Email:
carelineSGM@sarihusada.co.id
Facebook:
Aku Anak SGM
www.facebook.com/AkuAnakSGM
Website:
www.generasimaju.co.id
Takaran saji x g
JUMLAH PER SAJIAN
Energi total : x kkal
Energi dari Lemak : x kkal
% AKG
Lemak Total
Lemak jenuh
Kolesterol
Asam Linoleat (Omega 6)
Protein
Karbohidrat Total
Serat pangan
Frukto Oligo Sakarida (FOS)
Gula Total
Gula (Sukrosa)
Natrium
Kalium
Vitamin A
Vitamin C
Vitamin D3
Vitamin E
Vitamin B1
Vitamin B2
Vitamin B3 (Niasin)
Vitamin B5 (Asam Pantotenat)
Vitamin B6 (Piridoksin)
Vitamin B9 (Asam Folat)
Vitamin B12 (Kobalamin)
Kalsium
Fosfor
Magnesium
Zat Besi
Seng
Yodium
Selenium
Persajian mengandung :
DHA
Biotin (Vit H)
Kholin
Klorida
Rules granting
- SGM Aktif can be given as a provision when your child is doing activity outside the home especially in school.
- Mother is still recommended to give SGM Eksplor 3 Plus 2 times a day at morning & night.
- We do not recommend to stop / replace the use of SGM Eksplor 3 Plus.